ABOUT CARROLLTON FIRE DEPARTMENT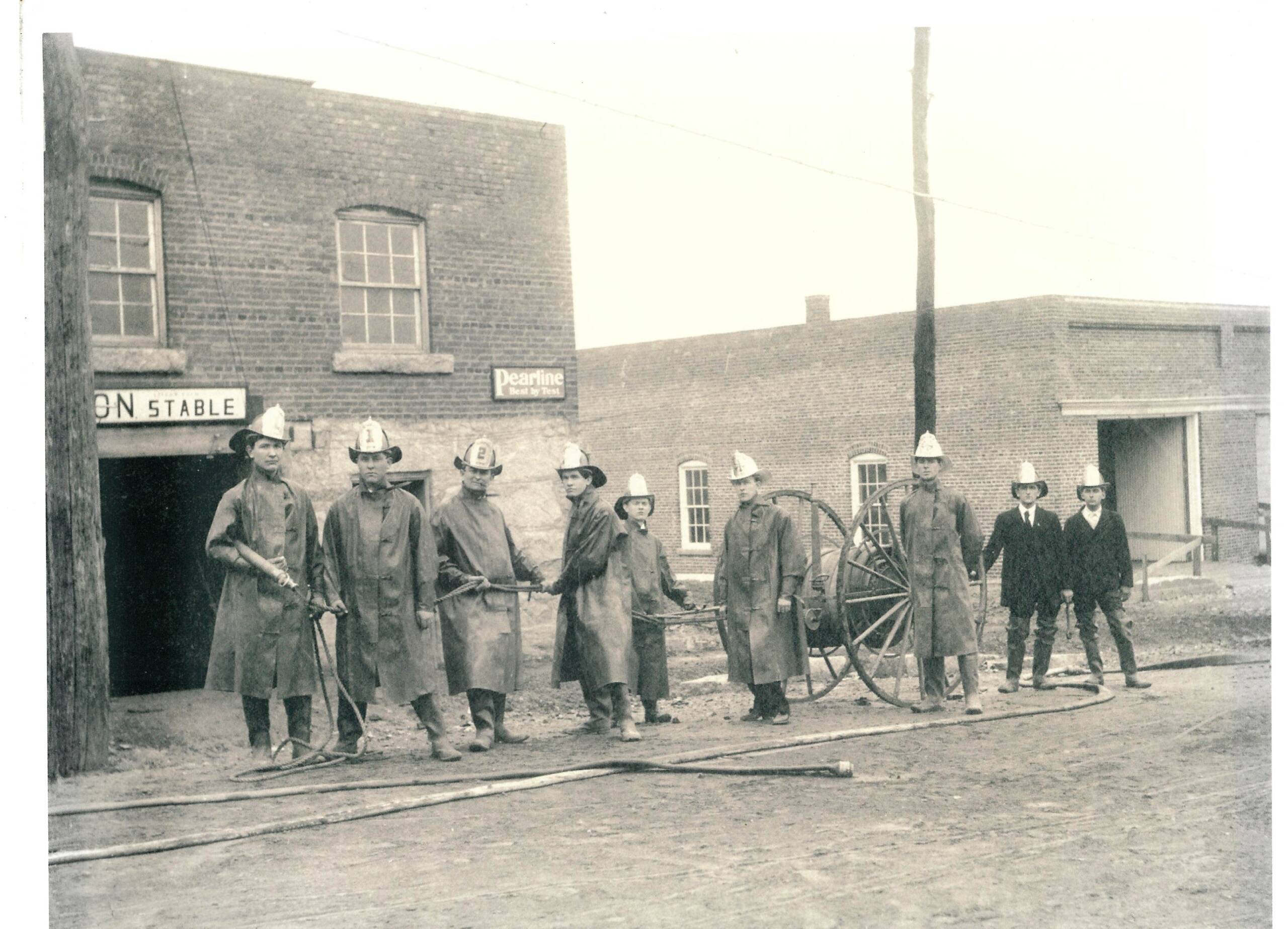 In 1905, with concern for the City of Carrollton's fire protection, Mayor H.W. Long and Councilmen H.R. Robinson, C.T. West, Adamson, and J.C. Cheney moved to establish the city's fire department. The mayor and council purchased the first firefighting equipment in March of 1905.
Posters and pamphlets were distributed in May of 1905 recruiting volunteers to form the Carrollton Fire department. On June 19, 1905, the mayor and city council resolved to act as a committee in conjunction with a citizens appointed committee to organize the fire department and the original constitution was written. Having the equipment, volunteers, and constitution required, the Carrollton Fire Department was established and ready to begin serving citizens. On October 9, 1905, Carrollton's first fire Chief, A.P. Travis was elected. J.E. Conner, Dr. Sam Harris and Glenn Holmes were appointed as Captains. Emmett Smith served as the department's Secretary and Treasurer.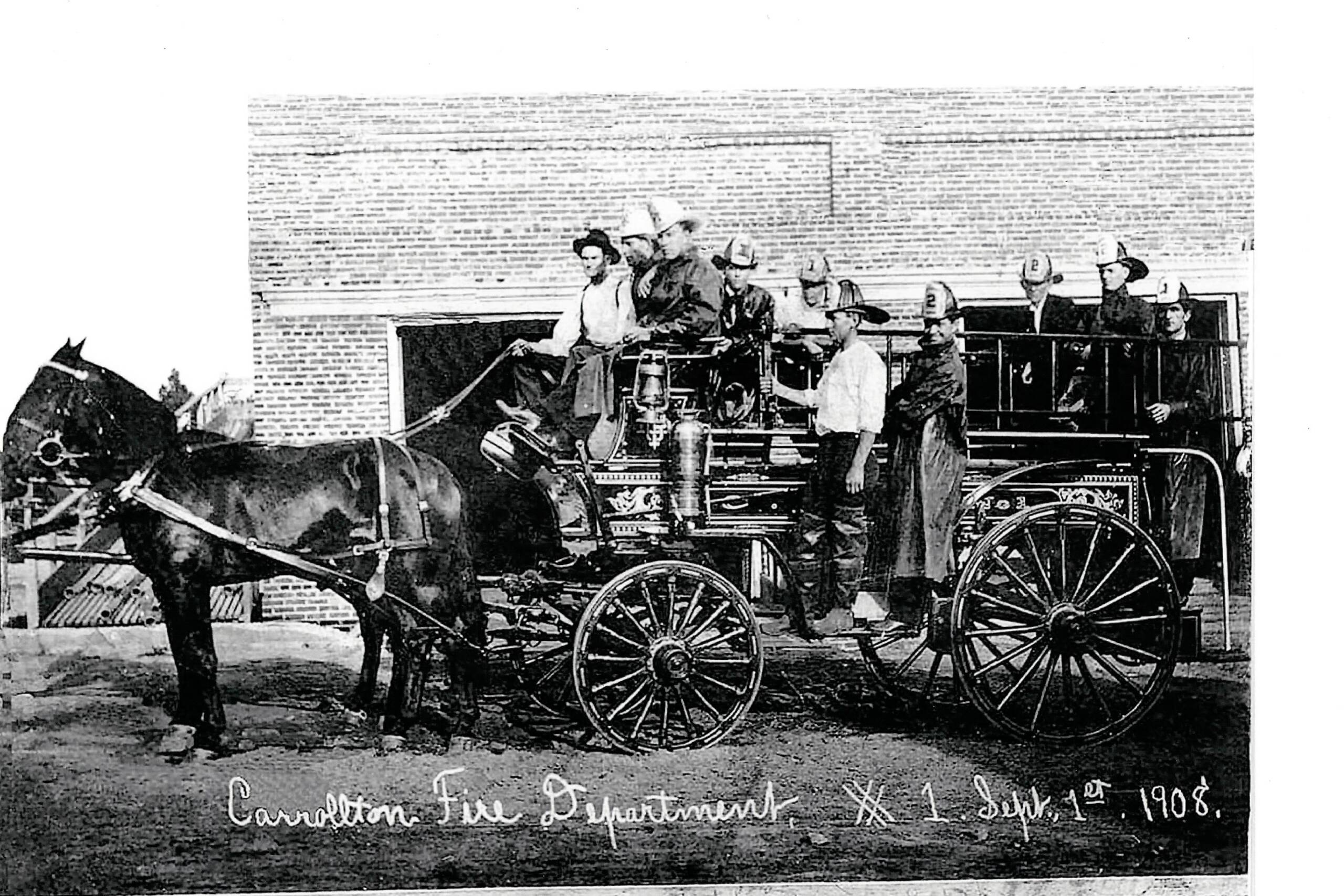 On June 1, 1908, the first firefighting protective clothing was purchased and put in service. The equipment included aluminum fire helmets, rubber coats and rubber boots. Along with protective equipment, on September 1, 1908, the fire department deployed a team of horses and a fire wagon to serve the city. In 1916 the fire department received its first motorized fire apparatus, while keeping a team of horses and a fire wagon as a backup in case the fire truck was out of service.
Historical Photos
PRESENT DAY
The department has changed considerably since those early days. The Carrollton Fire Department now has 67 fully paid firefighters working out of four fire stations, on 5 fire apparatus, 1 hazardous material apparatus and a fire training center. In 2022, the department responded to 6,232 calls for service including structure fires, vehicle fires, medical emergencies, hazardous material incidents, high and low angle rope rescues, and public assistance.
Firefighters must be prepared to respond to an ever increasing, wide range of incidents. To prepare its firefighters for everything they might encounter, the Carrollton Fire Department requires new employees to obtain firefighter II certification and be medically trained and certified in the state of Georgia. However, this is just the beginning for firefighters in Carrollton. Many of our employees are hazardous material technicians, emergency medical technicians (EMT), paramedics and hold a wide range of advanced certifications in areas such as high angle rope rescue, confined space rescue, trench rescue, structural fire control, search and rescue, and fire apparatus operator, to name a few. The Carrollton Fire Department is steadfast in encouraging firefighters as they advance their training to be prepared for any emergency Carrollton citizens and visitors may encounter.
Our mission is to provide the highest-level fire and emergency services to our citizens and visitors with highly trained, compassionate, and professional firefighters. We strive to provide excellent customer service through quick response, education, fire prevention, and professional services. To have the resources necessary to serve the City of Carrollton, our fleet consists of 11 vehicles and apparatus ready to respond.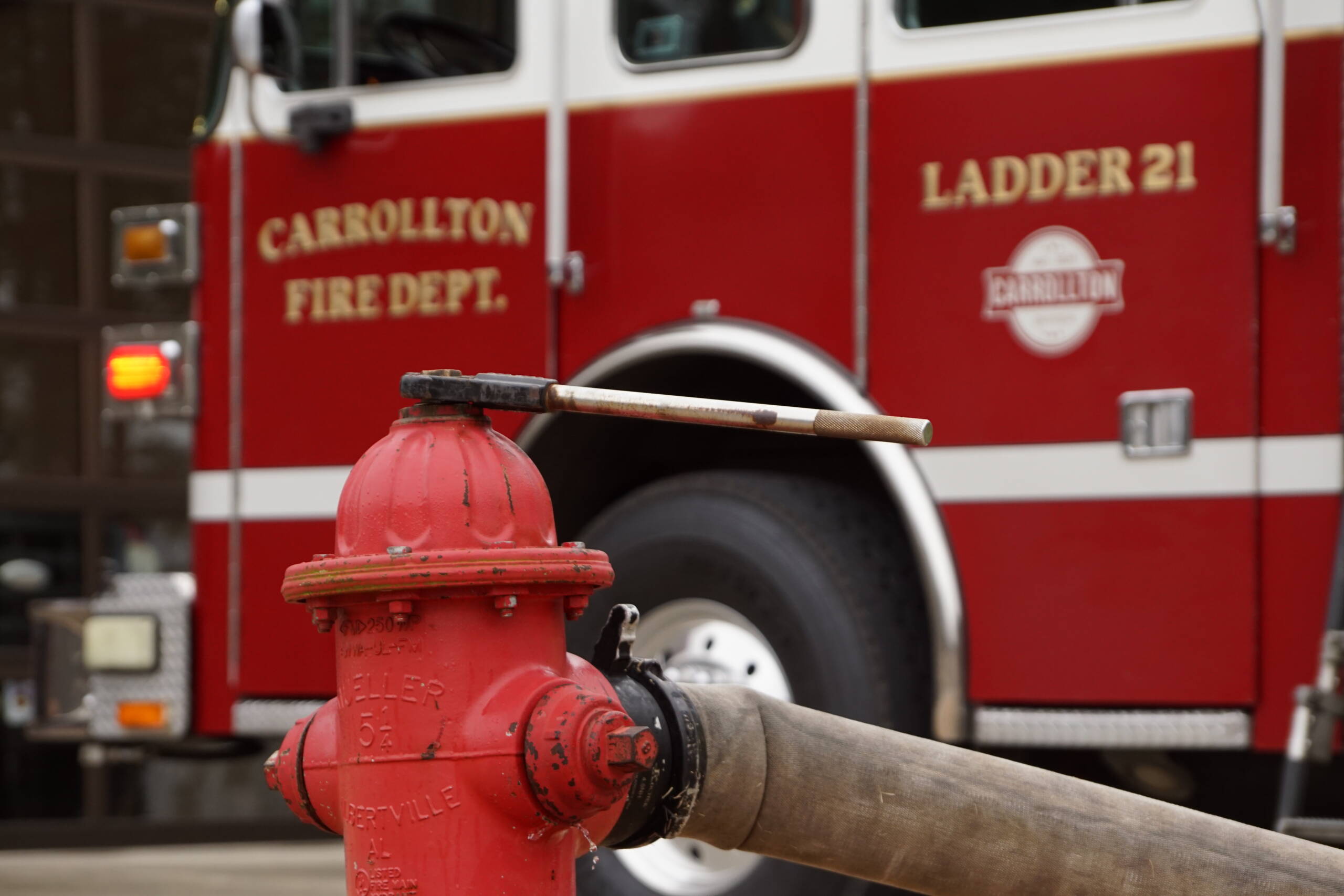 Our daily fleet consists of:
One 100' Sutphen aerial platform truck
Three Sutphen engine pumper trucks
One Pierce engine pumper truck
One Battalion command vehicle
One Regional hazardous material tractor trailer
One rescue boat
One golf cart equipped for emergency medical care
Two fire service ATVs
Three reserve engines, one reserve Ladder truck and two reserve staff vehicles
Thanks to the support of the community and Carrollton leadership, the department will receive a new fleet of Sutphen engine pumpers and one Sutphen aerial platform truck in late 2023 and 2024 to continue the highest level of service possible to the City of Carrollton.
The department operates from four stations, strategically located to optimize response times to emergencies. In the last five years, Carrollton Fire Department is grateful to have welcomed two new fire stations, with station 23 most recently opening in April of 2023.
In 2016, the City of Carrollton obtained a class 1 rating for its fire suppression delivery from the Insurance Services Office (ISO), Inc. This rating plays an important role in the underwriting process and pricing structure used by insurance companies. There are few departments in the state of Georgia able to achieve and maintain an ISO class 1 rating. It requires hard work from dedicated fire personnel and collaboration with other departments within the City of Carrollton.
From the administration to the newest employee, we work together to always be at our best. Serving Carrollton's citizens and visitors with the best customer service and emergency response in the moments we are needed most.